Mobile Wallet
Go ahead!  Pay with your phone, tablet or wearable device!
Making purchases with your Bluff View Bank Debit Card is simple and secure with mobile wallet.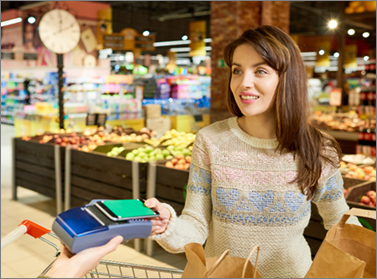 With a quick tap, you can use your Bluff View Bank Debit Card to pay for your purchases at millions of retailers and locations that accept mobile payments.  To use it, simply unlock your phone, tablet or smartwatch and hold up to the reader at a participating store.
Your Actual Debit Card Can Stay at Home
As long as you have your device with you and the merchant accepts mobile payments, you don't need to have your Bluff View Bank Debit Card with you.
Faster Transactions
There is no swiping or entering card information. Simply hold your device near your participating merchant's contactless reader at the register or select your mobile wallet payment option when paying online.
Improved Security
Mobile wallet technology assigns an encrypted code to each transaction so it does not store, use or share
your debit card number during the transaction, making it more secure than using your actual card.
Reduced Risk of Fraud
Each transaction requires authentication by your fingerprint, Face ID or Personal Identification Number (PIN). 
Plus, your Bluff View Bank MasterCard® Debit Card comes with zero liability coverage for your added protection against identity theft.  



Bluff View Bank supports these digital payment apps.  Click on the logo to learn more.

​

Ready to get started?
You can easily access your mobile wallet from the app on your phone.
Download your preferred mobile wallet app from the app store on your device.
Add your Bluff View Bank Debit Card information into the wallet by following the steps provided in the app.
Activate your device by choosing to confirm registration via text or phone call.  If you choose phone call, our provider, SHAZAM will contact you to confirm your activation.
Once activated, you'll have access to pay at participating merchants, in apps and online through your mobile phone, tablet or smartwatch!
Still have questions and would like to talk to someone?