Agricultural Lending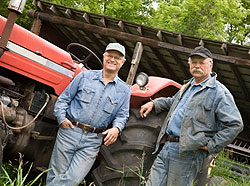 We take your ag business very seriously and we're here to help you make it successful.  Our lending professionals have experience in serving the ag community and we want to be your bank of choice.  So whatever your needs, call or stop by and speak with a Loan Officer about financing.  Or, for faster service, you can apply online with our handy loan application.
Real Estate Loans
Farmer Mac Lines of Credit
Operating Loans
Machinery & Equipment Loans
FSA Guaranteed Loans
WHEDA Loans
Dan Mueller – NMLS#786188
Contact Me by Email*
608-582-3650
* We value your privacy. Please note that emails are not secure transmissions so please do not send account numbers, social security numbers or any other information you would like to keep private to Bluff View Bank or anyone else in an email message. Thank You.